Motion Medicine

A revolutionary healing cream scientifically formulated with all-natural ingredients. Motion Medicine is designed to relieve and prevent muscle and joint pain due to inflammation and arthritis. It enhances circulation and exerts local anti-inflammatory, antioxidant, pain relief, as well as cartilage and tissue repair activities.
Brochure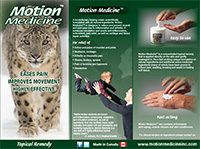 Click to Open
For relief of:
Aches and pains of muscles and joints
Backache, lumbago
Arthritic or rheumatic pain
Strains, bruises, sprains
Pain of tendons and ligaments
How and Why it is So Effective!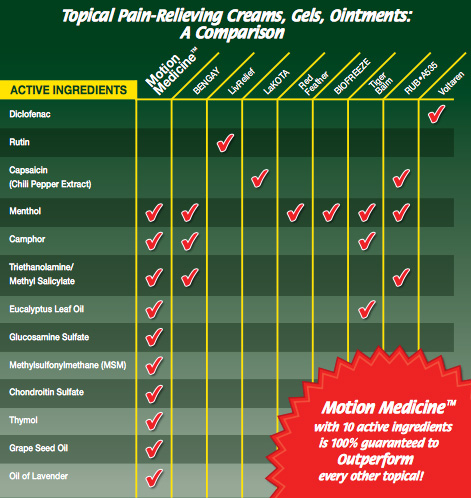 PROPERTIES
INGREDIENTS
BENEFITS
Anti-Inflammatory
Methylsulfonylmethane (MSM)

Eucalyptus Oil

Oil of Lavender

Grape Seed Oil
Improves pain and physical functioning associated with

osteoarthritis, reduces neutrophil by-products which cause

inflammation and promote wound healing.
Antioxidant
Methylsulfonylmethane (MSM)

Grape Seed Oil

Vitamin E
Protects against carcinogen-induced oxidative ceccular and

genotoxic damage.
Anaesthetic /

Antinociceptive
Menthol

Eucalyptus Oil

Oil of Wintergreen (Active

component is Methyl Salicylate)

Thymol
Blocks Na+ channels in nociceptors (nerves that sense pain),

thus providing onsite pain relief.
Muscle Relaxant
Menthol
Relieves spasms of the musculature due to suppression of

Na+ movement in neurons and skeletal muscle cells.
Circulation Enhancement
Menthol
Dilates arterioles and improves circulation.
Penetration Enhancer
Menthol

Camphor

Urea

Polysorbate-20

Eucalyptus Oil
Non-ionic surfactants that enhance delivery of hydrophilic

substances and the flux of substances through/across the

stratum corneum.
Cartilage /
Glucosamine Sulphate

Chondroitin Sulphate
Required for synthesis of hyaluronic acid by fibroblasts.

Forms the matrix of cartilage covering articular surfaces

with synovial joints.
Skin Conditioner /

Anti-Irritant
Glycerin
Softens and prevents dehydration of the skin and abolishes

skin irritation.